Well It's been a crazy week for me, how about you?
I spent alot of the week working at the ND. Nearly finished with all the work there too. Just waiting for them to put the curtains back up, and finish painting so I can take finished pictures. It's not a huge difference from a distance, but man, those curtains where huge, dirty, and super heavy. It was pretty intense!
Got to go to the local water park with my friends on Tuesday. It was fun, but I'm realizing Water parks aren't really made for grown ups. My bottom was so scratched up it hurt to sit the next day. Perhaps I've finally grown out of the waterpark :(.
And then the other day I got to spend the day in the ER at St David's South Austin Hospital. Let me tell you what, the people at that hospital really have their shit together. It was so fast, easy, comfortable. Everyone was super nice! I've never had such a wonderful experience in an ER before. I'm alright now, having spent the better part of two day on the couch watching The Tutors and Turn A Gundam.
Haven't been doing much sewing, do to my new baby already having slipped out of time. I'm going to take her to my friendly neighborhood Singer store, where the boy who fixes the machines is smoking hot!
But I have been posting more stuff up on the webshop! Been selling a fair amount as well! Remember if you like it, buy it now, if you wait, someone might beat you to it. The blessing and the curse of one of a kinds, is there truly is only one.
Current and upcoming looks under the cut!
http://www.etsy.com/listing/77985463/upcycled-red-egyptian-cotton-pajama-set
http://www.etsy.com/listing/77985013/upcycled-garfield-and-otis-pajama-set?ref=v1_other_2
http://www.etsy.com/listing/77978766/upcycled-digimon-adventure-pajama-set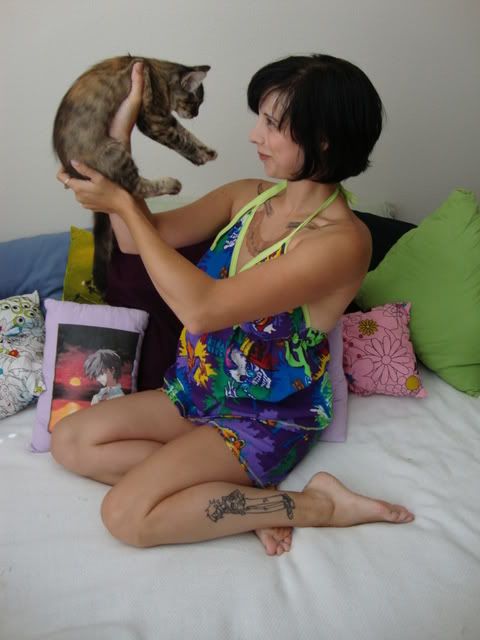 http://www.etsy.com/listing/77979100/upcycled-goosebumps-by-rl-stine-pajama?ref=v1_other_1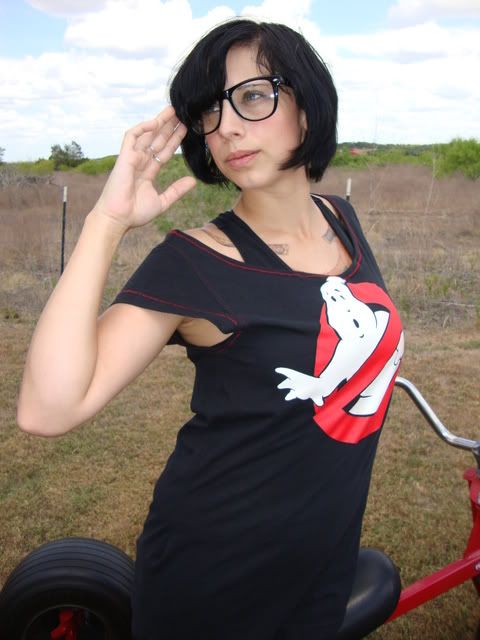 SOLD ALREADY! Sorry!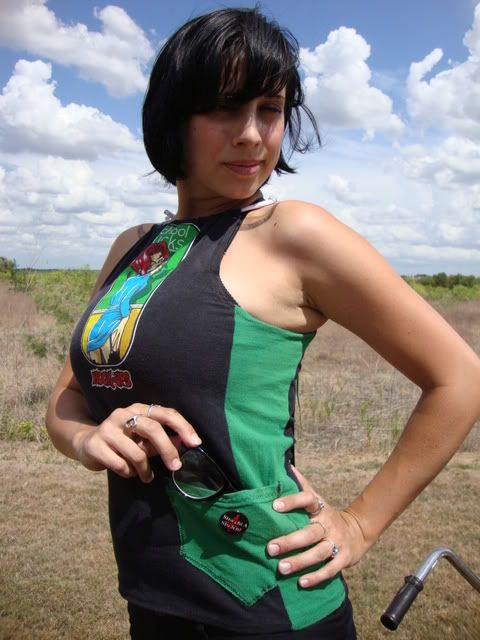 Returning on the site for a sale price! Coming soon, or make offer now!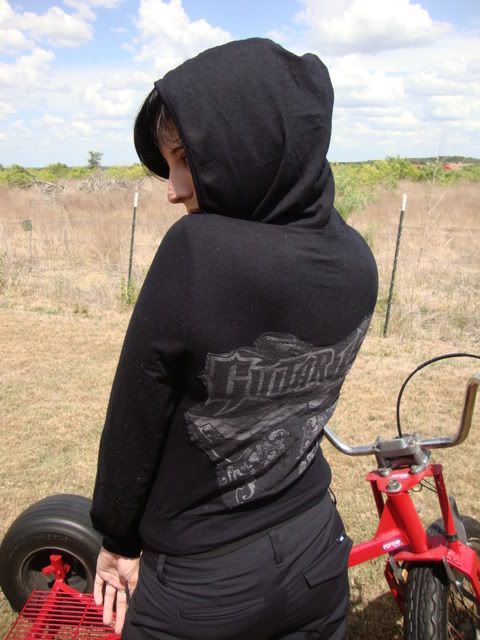 Comming soon! Make offer now! Upcycled tshirt weight black long sleeve zipfront hoodie with heart and skull detail front and a guitar hero patch on the back!
I have alot of projects on my plate right now, let's review what I will be working on over the next few weeks:
Twilight princess Zelda
Twilight Princess Adult Link
OoT child Link
OoT Saria
Dr Girlfriend from Venture Brothers
Sochie Heim's Pilot Suit Turn A Gundam
Two layer summer skirt for Stephine
Laptop bag for Kira
Color Edit Princess Peach!
oh me, oh my! That's alot of sewing to do! But fear not, I am a one woman sewing Army. I'll get it all done with time to spare! Thank goodness it's not ALL for San Japan!
It'sa a bit late for 'spring cleaning' so we'll call it 'gearing up to work hard cleaning'. I have again rearranged my studio/office/study/club house, and since I finally get it the way I like I took a little video tour. I spared you having to listen to me talk, by setting it to music. One of these days I'm going to take all the videos I've made like this and put them together into some crazy remix of houses I've lived at lol.
Packing up all the Shinshay Originals clothing I've got on hand right now.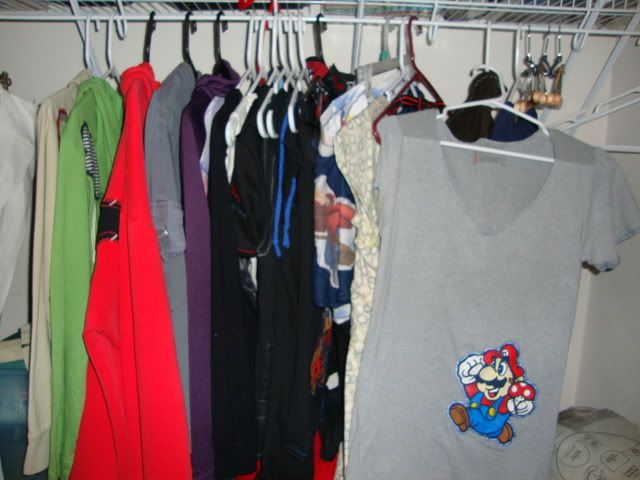 Here is some more stock hanging in closet, waiting for reposting, photos, or to be finished.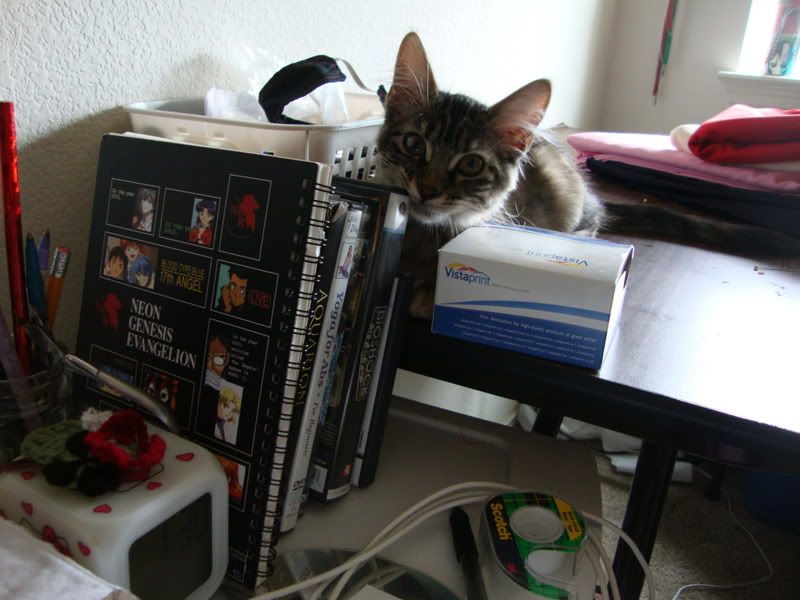 This is my baby cat Rhesus, trying to help me sew. or distract me with her cuteness, I'm not sure. She's the only one of the cats allowed in the sewing room. She liked to sleep in my lap and pounce all the strings.
This is Mecha Shiva, and if you asked me why she was sleeping on the coffee table like that wouldn't have an answer either. She's just crazy. LOL Total unrelated to everything else, but ya know, who can resist kitties?
My darling onii-chan asked me to make him some gauntlets or gloves that would go with his steampunk urchin fashion style. So I whipped these up for him, what I'm calling my 'Sandworm Gauntlets'
Well I guess I should get back to work. So much to do, so little time to procrastinate! LOL
Current Mood:
cheerful
Current Music: Birds of Prey unaired Pilot episode